Balls 2003
September 26th-28th, 2003
/ Black Rock
2 flights, 8000 N-sec burned
At my second Balls, I wanted to do something special, but it'd be tough to get a motor arranged for it. Luckily, Les Derkovitz said he'd be able to do an experimental M2400 for our project. Jeff Taylor at Loki pitched in an ARTS for data collection, and Jim Amos at MissileWorks sent an RRC2X for deployment duties. The resulting project was boxed up and sent with Joe Mullin to the playa - what an awesome team effort. My friend Paul Zaich flew up with me and my dad, and we arrived on the playa for three days of rocket paradise. The weather was excellent all weekend, allowing for some serious flying.
My school rocket club had been building this rocket for several months. However, the big flight didn't go exactly as planned. Les' motor worked great, ripping the rocket dead straight off the rail. However, as speed built, the rocket began to cone, and soon the payload section decided that it didn't like going through Mach at an angle of attack of 10 degrees. As such, it decided to bail on the rest of the rocket, which went happily flying off sideways, impaling itself into the playa at a nice angle. The upper section was recovered intact, and lives to fly again. Special thanks to Jeff at Loki Research for letting us borrow an ARTS flight computer to fly in the nose, Jim Amos at MissileWorks for giving us the RRC2 for a good price, and Les at NASSA for the AWESOME motor.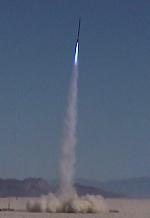 others: arts arming | paul, me, M2400
video
Well, my 2550 motor got crashed (lawn darts from 18K don't do good things to aluminum ;)), so the Arcas was temporarily grounded from its upcoming L850 flight. Temporarily. Sitting around the campfire on Saturday night, Tony Alcocer offered me one of his remaining stash of "Wimpy Red" motors. This one was for a 2000 Nsec case, and simmed out to a K970. He graciously gave it to us for free (though we did give him a box of DaveyFire 28Bs for SOMETHING), or at least the propellant. I had the joy of facing, sanding, and coring the grains for the motor. I then cut the liner and Tony helped me build it all up. It fit together just like a Kosdon. The rest of the rocket was prepped with an RRC2 only for deployment (I trashed my ALTACC on Saturday too!). We put the rocket on the pad about 11:00, installed the igniter, and pushed the button. The rocket chuffed twice, then SCREAMED off the pad to 8030 feet. Wimpy, huh?! It arced over at apogee and deployed the drogue right on time, and the main deployed perfectly at 1000 feet. That was GREAT! Thanks to Tony for the motor, Paul for the prep help, and Sue McMurray for cheerleading <g>. P.S. I picked up a new 2550 motor recently - the L850S combo will get into the air again real soon!
Altitude: 8,030 ft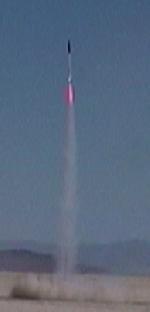 others: me 'n paul preflight | recovery