Tripoli Indiana February 2010
February 21st, 2010
/ Ash Grove Site
2 flights, 491 N-sec burned
The weather was spectacular for the week leading up to the launch, but a front rolled through Saturday night, making the ground soggy and the clouds low. A call to the local Purdue tower, however, revealed that despite the rain, we had a ceiling of 5000 feet - game on! John flew his Mongoose 54 again for a successful L1 cert (congrats!) and I put up two flights to quench the APCP hunger. After the launch, the group retired to the local Wendy's in Battle Ground to warm up and trade rocket stories.
For the first flight of the morning, I wanted to see what the upper level winds were doing. I quickly loaded up an F40-7W for the old reliable Lil' Nuke (my favorite motor for it) and headed up to the launch table to fill out my flight card. After retrieving a 1/4" rod from the trailer and installing it in the pad (with a wet corncob standoff), I hooked up the Copperhead igniter. Vic Barlow gave it the once-over at the pad, pulling the nose cone off to make sure I had a chute in it, before giving the go-ahead to Gus Piepenburg to push the button. The Nuke soared off the pad with a little bit of rod whip, but flying a very straight trajectory. After burnout, it became invisible to me, but soon the chute was spotted, and the rocket descended to a soft landing in the next field over.
Though I could have flown up to the ceiling of 5000 feet with an I255 or I299, I elected to keep things low so I wouldn't have to slog through the muddy fields to recover my rocket. I had an Aerotech I357T reload to fly, but everyone was getting cold and I didn't want to be too much of a holdup, so I grabbed the 3 grain case again and went for a CTI I236BS I had on hand instead. With a fresh battery in the altimeter and a charged tracker, it was a quick prep under the watchful eyes of Darryl from Wildman Kentucky. Pad loading went smoothly, and after appropriate heckling from Prefect Vic Barlow, LCO Gus Piepenburg called out the count, and the CTI blue motor lit up immediately. Little Dragon soared beautifully straight towards the gray sky with a breathtaking blue flame. At burnout, a light grey smoke cloud appeared as the motor shut down and the bird coasted quietly to apogee. I had removed the streamer for this flight, and after a tumultuous descent to 400', the main fired on time and quickly inflated, much to the surprise of Vic (who now insisted I had set the main too high for this flight - suuuure :)) Darryl helped me recover the bird and dump the snow out of the payload tube, with the altimeter quietly beeping out 2504'. Not a bad flight for the day!
Altitude: 2,504 ft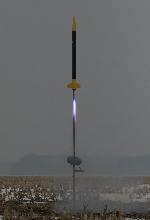 others: recovery