Tripoli Indiana September 2011
September 10th-11th, 2011
/ Purdy Sod Farm
3 flights, 218 N-sec burned
The Purdy flying season was a bit abbreviated, with sod spraying forcing one launch cancellation and me in California for the August launch. September saw calm winds and reasonable temperatures, so it was the time to put a few flights in the air!
I had a new stash of small reloads to fly in my 29/40-120 case (that must have at least 100 firings on it by now!), and I hadn't tried this green load yet. With 76 newtons of average thrust, I figured it'd be a good motor to pick up the tubby LOC IV. The copperhead got things going quickly and the rocket shot into the air on a bright green flame. Chute ejection was on time and the rocket bounced down onto a harvested strip of sod. Success!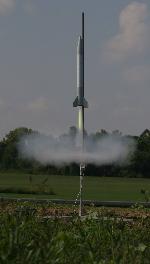 others: recovery

CJ and I built a Wild Child in less than 10 minutes at LDRS, so of course I had to fly it the next weekend. I taped a copperhead tube to the side of the airframe for a launch lug, attached a streamer, and filled the mount with an E motor to keep the bird on the field. Tom McFee pushed the button and sent the Wild Child on a nice arcing flight into the wind. At apogee, the nose cone separated from the airframe, but myself and Vic Barlow successfully located it after a few minutes of searching. Needs a bigger motor next time!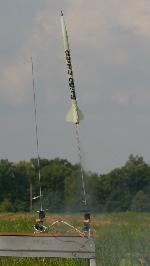 others: preflight

Keeping with the low and slow theme of the launch, I elected to put up the Doorknob, which had been a bit of a hangar queen as of late. The classic Blackjack load provided a slow, arcing flight with late recovery deployment, but everything held together and the Doorknob did a one fin stand on landing.