ROC February 2009
February 14th, 2009
/ Lucerne Dry Lake
2 flights, 1407 N-sec burned
The first ROC launch of 2009 was cool and clear, with a slightly sticky lakebed from snow the night before. Time Warp from the Discovery Channel was on-site doing high-speed videography of various flights. I got two rockets into the air -- my freshly-painted BHP Nike, and the venerable LOC IV. Both were great flights.
I had finished painting and installing rail buttons the night before, so prep began the morning of. I wanted to fly a J800T, but Jack was out, so I ended up with the J540R - not a bad compromise, as the Redline would go well with the neon pink fins. Everything was ready by 11 AM, but putting the rocket on the rail revealed that I had forgotten to install the rail button standoffs to accommodate the nose cone lump, so after reinstalling the buttons with standoffs, pad install went smoothly, the ARTS was armed, and igniter was installed. Nice boost to just about a mile, but a major wiggle developed about halfway through the burn that I attribute to a loose nose cone in the payload section. Successful dual deploy brought the rocket down about 1000 feet away on the SkyAngle main, obviating the need for the RocketHunter which I had installed. Nice first flight!
Altitude: 5,269 ft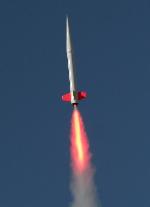 With the sun setting and the range beginning to close, I wanted to get one more flight in the air. My go-to for easy prep, the LOC IV, was within easy reach, and I had picked up one of the new White Lightning KBA loads for my 29-250 case -- a natural for a vehicle of this size. Packaging was opened, snap rings clicked into place, and 10 minutes later the LOC IV was on the pad with a shiny new H135W in it. The only snafu was walking through RSO; poor Greg Lyzenga had never seen a KBA before and so was a bit surprised to see the shiny gold case in the rocket! A quick countdown and she was off and away with a big white flame and plenty of noise. The motor shut down cleanly (unlike its AT counterpart, the H180W, or the Kosdon H135S) and the vehicle coasted up... and up... and up... and ejected slightly before apogee. Wow, more performance for less cash than the H180... I like! The ejection was so soft it didn't even break the tape on the shock cord, and descent was deliciously slow on a big SkyAngle chute. What a nice flight to end the day.