Red Glare XVI
April 11th-13th, 2014
/ Higgs Farm
2 flights, 2238 N-sec burned
Red Glare is always a great time, and I really enjoyed this one. I drove in with two rockets (my Jart and my trusty Competitor 4) and a couple of motors, intending to have a nice laidback weekend. After crashing at Todd's apartment on Thursday night, I headed to the Eastern Shore Friday morning for three excellent days of flying.
Upon arrival on Friday morning, I stopped by the Wildman trailer and chatted with Tim and CJ, and then quickly got sucked into a Jart drag race. Surprise, surprise. But first I had to finish building the avionics bay! After tinkering for a few hours, I was finally ready to go; I talked myself into a commercial motor to speed up prep time (GASP) and then we were out to the pads. CJ and I had grabbed CTI J293BS motors to race, and Tim claimed he had grabbed a J240RL. Mmm hmm, right. We all loaded up on the B rack, and Neil saved us for last-- he pushed the button and off we went. Of course, Tim had a VMax instead of the blue. (I should have guessed by how BRIGHT RED the propellant was.) My Jart performed well on the Blue Streak motor and did a nice dual deploy, landing in the parking area between two rows of cars. It popped a fin, but CJ and I had her fixed back up in no time. Count it!
Altitude: 3,263 ft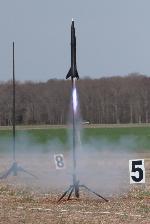 others: Jart #selfie | descending under Spherachute

After fixing the fin (THANKS for the epoxy, Al!) I reprepped on Saturday morning. I figured I'd get a few things done before Todd flew his (already prepped from last time) Darkstar. But (shocker!) I was totally ready to go sans motor by the time Todd flew. No matter. After traipsing through the woods to get that flight back, I built up the 1400 blue load and put it on the last rack of the day. The motor lit right up and the Jart bulleted off the pad into the sky. Neil's eagle eyes saw the drogue deployment, and we spotted it on the way down again in the grassy field across the ditch. We drove around onto 313 to shorten the walk, and after figuring out where to cross the drainage ruts, picked it up with no damage. Excellent!
Altitude: 5,634 ft